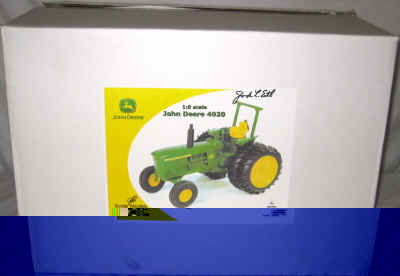 Pedal Tractors/Cars/Bikes: John Deere: 4020 diesel wf NIB; 7600; 8530 Prestige w/ weights & duals NIB; 4450; ROPS kit NIB; dual wheel axle kit NIB; #97 Nascar Pedal Car NIB; #97 Nascar Electric Car; JD Bicycles: 12" & 16" bicycles w/ training wheels; 26" AT 21-speed bicycle aluminum frame; Allis Chalmers: WD-45; 8070; wagon; Pressed Steel: Firetruck pedal car; Firetruck ride on toy; U-Haul pedal wagon; Steam Roller ride on toy; USA Army tractor pump ride on toy; Jeep ride on toy; Sealtest Milk ride on toy; Buddy L sand & gravel sit & ride;
John Deere: 1:8 Scale: 4010 nf; 4020 wf; 4020 wf w/ duals; Precision: #1-14 & 16-25; Series II #1&2; Lawn & Garden #1&2; L&G Patio series; Key Series #1-4; 4430 w/ glass case sales award Key #1 LE; Precision Duplicates #1, 2, 5-7, 9-14 & 16-25; Series II #1&2; L&G #1&2; L&G patio series; Key Series #2-4; Tractors: A Gold Kansas City; AR; AW w/ canopy; B CE; BN; BW 200th Birthday; D 75th Anniv; G CE; GP Two Cyl Club 1994; GP; GP; HN CE; MC crawler; R Waterloo Boy; Waterloo Boy engine Nashville; 50 & 60 50th Anniv; 60 orchard; 60 Dealer Advantage 2001; 70; 80 Columbus CE; 80 CE; 330 & 430 Dubuque; 420 crawler CE; 430 crawelr CE; 520 & 620 50th Anniv; JD 530 w/ heat houser CE; 630 LP; 720; 730 CE; 820; 830 200th Birthday; 3010; 3010 CE; 3020 WF w/ canopy; 4010 CE; 4010; 4010 w/ cab CE; 4010 Toy Farmer 1993; 4020 Minneapolis dist center CE; 4020 200th Birthday; 4020 fwa CE; 4040; 4230 CE; 4230; 4320 w/ duals CE; 4520 200th Birthday; 4620 CE; 4620 w/ canopy; 4640 Iron Horses CE; 4955; 5020 40th Anniv CE; 5200 CE; 6200; 6200 mfwd; 6300 Farm Show 2002; 6400 w/ loader; 6400 CE; 6400 mfwd CE; 7600 mfwd; 7000 demonstrator; 7510 Farm Show 2001; 7520 1:32 CE; 7600; 7800 CE; 7800 mfwd CE; 7810 mfwd; 7920 mfwd CE; 8300T NAAMC 1st Anniv 1 of 400; 8400 mfwd CE; 8400T; 8410 mfwd; 8430 mfwd; 8520 w/ triples CE; 9300; 9320 Dealer; 9400 CE; 9400T CE; 9620 w/ gold 1:64 CE; 9620 Remote Control; JD tilt bed delivery truck; Combines & Machinery: 9860 combine; 9600 combine CE; 9510 combine; titan II combine; forage harvester; forage wagon; mower conditioner; elevator; Parker gravity wagon; grinder mixer; rotary hoe; 566 baler; cultivator; 250 skid loader; 3 pt blade; 345 L&G; Athearn trains; 400 & 500 snowmobiles; Fire pumper Waterloo Works SC; neon sign; many dealer only and expo items; banks; Nascar; novelty items; 1:64: 9750 STS NAAMC; many expo tractors; Farm Country building sets; Fire pumper Waterloo Works SC; Many dealer only and expo items;
Allis Chalmers: C American Precision; G; G w/ plow; D-14 Summer Toy Festival 1989; D-14 w/ loader Pork Expo 2011 SC; D-15 w/ cultivator SFTS 2008; D-15 SC; D-15 NF SC; D-17 Series III; D-19 SE; D-19 Toy Farmer 1989; D-19; 160 Orange Spectacular 2005 SC; 190 XT; 200; 200; 210 SFTS; 220 Toy Farmer 1995; Big Ace puller; 6060 2wd SC; 6070 Orange Spectacular SC; 7040 maroon belly; AC 7045 Farm Set w/ Deluxe Barn; 7045; 7045; 7050 maroon belly w/ box; 7060; 7060 w/ duals; 7060; 7060 w/ duals; 7060 maroon belly w/ box; 7060; 8010 CE; 8010; 8030 w/ duals; AC L&G w/ cart; Gleaner L2; 7580 Toy Farmer 2008 1:32; 8550 1:32; 4W-305 CE 1:32;
IH: TD 25 dozer; Pay Hauler; Fly N Farmall puller; A Franklin Mint; 560; 806 w/ loader; 966 w/ canopy Dealer edition;
Tru Scale: MM/Oliver: Other: 1941 GMC pumper firetruck Hwy 61; CAT D6 dozer;
Pressed Steel Trucks: Tonka: Allied Van Lines; Texaco tanker; ladder truck; #5 fire trucks; hydraulic dump trucks; original COE dump truck; state highway trucks; farm tan stake pickup; pickup red; Army Jeep; cement trucks; toy transport semi; Buddy L: extension ladder fire truck; GMC fire truck; dump truck; sand & gravel truck; Army Supply Corps; fire & chemical truck; Army stake truck; maintenance truck; heavy machinery service truck; highway maintenance trucks; Mack dump truck; Structo: many hydraulic dump trucks; grading service dump truck; gold & white pickup; flatbed w/ winch; cement mixer; garbage truck; telephone truck; transport semi; Tru Scale: orange service truck; blue & white pickup; red dump truck; green dump semi rough; IH: loadstar w/ gravity wagon; several dump trucks; blue straight truck; orange & white straight truck; baby blue straight truck; blue straight truck; pickup; Other: PIE transport Smith Miller; Doepke pan scraper; Bonnie "Ray" trailer; MAR deluxe delivery service pickup; Hi Way Express Van Lines semi Mar; Wyandotte wrecker; Army truck w/ trailer; Nylint Michigan crane;
This is a partial listing. There will be 150+ pressed steel trucks, 350+ 1:16 toys, 150+ 1:64 & 200 more 1:16 tractors will arrive after advertising. Check website for a complete listing & pictures www.yoderauctionservice.com. Showing Sept 19, 1-6 p.m. Catalogs available $6.
www.yoderauctionservice.com

Stan, Gentry & Vince Yoder 319-683-3600

Terms: cash or check w/ID

Lunch: Country Cookin'

Statements made day of sale take precedence over advertising.

Not responsible in case of accident or theft.