Located at 732 E. State St. Center Point, IA
Directions: From I380 take Exit 35 North to Center Point then North 1 ½ miles on Lewis Access Rd then East on State St.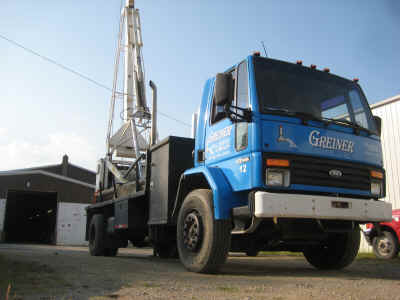 Trucks: Smeal 12T pump hoist mounted on 1989 Ford CF8000 diesel w/ 40' boom 1,500' sandline swivel hooks sells complete w/ plates bails and many tools Serial # 12TS - 92085 VIN# 9BFPH81A1HDM03136; Smeal 5T pump hoist mounted on 2010 Ford F-550 diesel w/ 36' boom sandline hyd wire spooler pipe racks rebuilt injector pump sells complete w/ fittings and tools Serial # 5TSHRPPG - 9909 VIN# 1FDAF5HR8AEA18281; 1990 Ford CF8000 w/ utility bed w/ tools & parts VIN# 9BFXH81A0LDM01712; 1988 IH 2500 truck L10 Cummins w/ cheater axle 2600 gallon tank & 90 gallon fuel tank VIN# 1HTZPGDR5JH524481; 2001 Ford F450 diesel 4x4 w/ flatbed 150k miles VIN# 1FDXF47F51EC04873; 2008 Chevrolet extended cab ½ ton w/ 5.3 liter 138k miles VIN# 2GCEK19J781306999; 1968 Chevrolet C-30 w/ Hercules Galion dump box; 1996 Ford Econoline van; 1994 Nissan pickup manual; Olds 88 (non running); 3 Ford COE trucks (non running); Trailers & Flat Beds: Trail-eze 26'x8'6" wide tilt trailer deck over dual tandem w/ pintle hitch; 20' tandem axle trailer pintle hitch 8 bolt rims; 24' tandem axle trailer pintle hitch w/ ramps; Dynaweld triple axle trailer w/ open center pintle hitch; 11'x7' flat bed w/ 5th wheel; 12'x8' flat bed w/ side boxes & ladder rack; Equipment: GEO Loop 40-500 grout pump w/ Honda 670 engine approx 2 years old; Vermeer M-475A trencher w/ backhoe & backfill blade, JD diesel will trench 5' deep, frost chain; Ingersoll Rand 750 compressor 4,844 hrs tandem axle pintle hitch; Ingersoll Rand 450 compressor 10,307 hrs pintle hitch; Ingersoll Rand 300 pintle hitch (non running); Ingersoll Rand 175 compressor gas w/ 680 hrs on skid; hydraulic Groutmaster; Rapid Ram 33 tamper fits JD 310; Kinshofer liftall forks for truck crane KM417; Meyer ST-78 snow plow; metal tracks for Bobcat 850; hydraulic wire roller; Duomot 2' vibratory tamper w/ 8hp Briggs engine; Trench box by Efficiency Products 6x6x6; Buyers sander truck hitch mounted; Mud jack; Small forklift; Woods belly mower; Vermeer vibratory plow w/ Wisconsin 4 cyl engine (non running); 6" trash pump w/ 50hp Lincoln motor; Equipment & Tools: Pleuger 120 hp motor w/ pump 2,000 gal per minute M10-125; Target Saws core drill machine & bits; Rigid core drill machine; Schonstedt magnetic and cable locator; Blackhawk porta power; Milwaukee roto hammer; Pipe puller electric drive; jack hammer; 2-4" pipe threading sets; gas detector for sewers; man hole lifter; chain binders; Murphy quick connect for rod drilling; fiberglass ladders extension and step; 12" hole opener; 2-10" elevators; 5 & 6" suction bailers; stabilizer; Fuel Tanks: 3-1,000 gallon fuel barrels w/ pumps; 500 gallon fuel barrel; pickup fuel tank 100 gallon; 120 gallon fuel tank w/ pump; Storage Tanks: 30,000 gallon steel tank; 30,000+ gallon steel tank weighs 10 ton; 2,000 gallon tank; 1,500 gallon poly tank; 3-1,500 gallon tanks; 1,250 gallon septic tank; 2-1,000 gallon tanks; 600 gallon poly tank; 550 gallon poly tank w/ valve; 2 galvanized tanks; 300 gallon LP tank; poly totes; Pipe: many bunks of iron pipe from 1" to 8"; 3, 4 & 6" PVC 20' long; 3 1/2"x24' galvanized pipe; 4" septic pipe; 2, 3 & 4" plastic pipe; left handed thread pipe; steel shafts; SS shafts; Parts & Supplies: huge inventory of parts and supplies to install new service or repair existing wells & septic systems; several new and partial rolls of submersible wire including 6-3, 2-3, 3-4; many rolls of 14-8 ga stranded wire; New pressure tanks, well pumps & water heater; Franklin & Richie hog waters; Galvanized livestock waters; Business name and contacts: we will be selling Greiner Well Service's customer list, contacts and phone number.
Preview: Friday, Nov 10 1-5 pm
Items must be removed within 7 days, loading available. Scroll down for 300+ pictures of items that will be selling.
Owner: Kenneth Greiner 319-721-7902