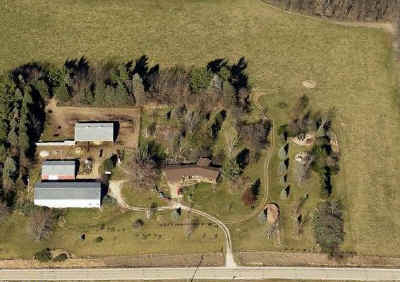 TRACTORS & MACHINERY:
Tractors: 2011 Kubota M5640 SU diesel w/ LA1002 loader 4wd 83 hours 14.9x28 tires 3 point pto bucket & hay forks ser# 50933; 2008 Kubota L3400 diesel HST w/ LA463 loader 4wd 471 hours 3 point pto & bucket ser# 82866; Machinery: Rhino 7' rotary mower; JD barge wagon w/ hoist; New Idea 213 spreader w/ slop trough; 2- 500 gal fuel barrels; 2- 300 gal fuel barrels; fuel barrel w/ stand; Hay & Straw: 140 lg square bales 2013 grass hay; 11 lg square bales 2012 grass; 13 lg square bales straw; Livestock Equipment: 50+ cattle panels; 20+ coral panels; several gates; several poly feed bunks low & high; 4 bale feeders; 1,100 gal poly tank; wood posts; woven wire; Lawn & Garden Equipment: JD 355D diesel w/ 48" deck 434 hours; JD GX355 w/ 54" deck 114 hrs; Cub Cadet 782; Karcher G1800 pressure washer new; 3 Yard Machines push mowers new; Mantis & Murray small tillers; McCulloch chain saws 14" & 18"; Bolens weed eater new; Car & Trucks: 1977 Ford F150 4x4 351 4 speed 33k excellent original condition; 1982 VW Rabbit; 1993 Jeep Cherokee 170k; Shop Tools; Pro Tech 10" compound miter saw; Sears air compressor; handyman jacks; come- a- longs; several landscaping stones; Household Items: Amana washer & dryer new in boxes ALW891 & ALE 868; Amana fridge 18'; Amana deep freeze 15'; Amana self cleaning stove elec new; Whirlpool small fridge; Kenmore stove; Maytag ringer washer; AOC LCD 32" flat screen tv; 2 Sanyo 18.5" flat screen TV's; Queen size bed; dresser; table & chairs; several other household items;
REAL ESTATE:
Tuesday, December 3, 2013 @ 12 noon
Tract Consists of 40 acres M/L featuring a 1,912 square foot ranch style house built in 1971. House also includes 3 bedrooms, 2 baths, a 14'x16' sunroom, a 3 car garage and a good roof. Basement area is 956 square feet. Other buildings on the property include a 44'x100' machine shed, 36'x50' machine shed and a 44'x60' open front pole building. Acreage consists of approximately 6 acres of farmstead, 5 acres pasture that is tillable and the balance of 29 acres of pasture and timber mixed. Average CSR is 73.5. Taxes for 2012 were $2,600. Great location near Hills and Iowa City on a hard surface road. Legal Description: The East Half of the East Half of the Northeast quarter of Section 17, Township 78 North, Range 6 West of the 5th P.M. Terms: Buyer must have pre-approved financing, 10% down day of sale w/signing of a purchase agreement. Balance to be paid in full at closing January 15 2014 at which time the deed and abstract will be delivered and possession will be given. Taxes to be prorated to date of closing. Not responsible for the accuracy of all information. It is the buyer's responsibility to verify information.
Owner: Stanley Miller Estate
Sellers' Attorney: Michael J. Brenneman